Top 20 Small Wedding Venues in the UK
21st June 2019
A lot of people dream of having a beautiful, big wedding with lots of guests and celebration. Yet, others dream of a small and intimate wedding, which can make their big day just as special.
The number of small wedding venues in the UK is growing, with something that everyone will love. Let's take a look at some of the best from around the country so you can make sure your big day is exciting and memorable.
The Frogmill
Located in the heart of Gloucestershire, you can celebrate your big day at The Frogmill. This is a welcoming country pub, with the special Mill Room available for weddings. It has a stunning chandelier, with a rural backdrop out the window. It's unique and perfect for a special day.
Website: https://www.thefrogmill.co.uk
Photo Credit: Rob Tarren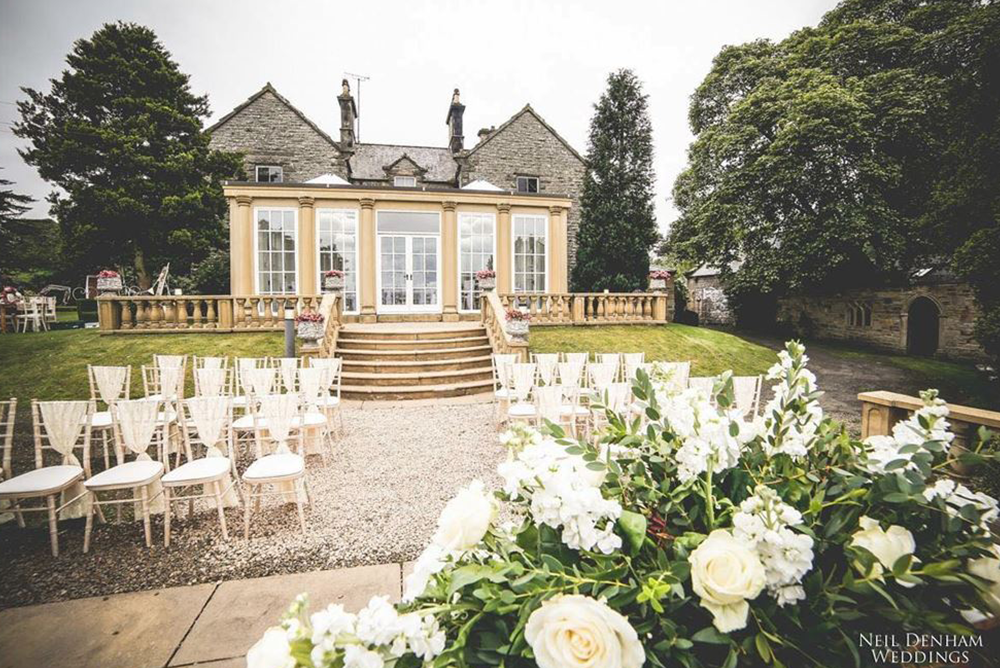 Woodhill Hall
Known as a luxury wedding venue, welcome to Woodhill Hall in the village of Otterburn. Enjoy your wedding on a gorgeous 100-acre estate, but you can hold your ceremony anywhere you like, from the tropical courtyard to partying in the amazing tepees. You can invite up to 30 guests for your wedding in Northumberland.
Website: https://www.woodhillhall.co.uk/
Photo Credit: Denham Weddings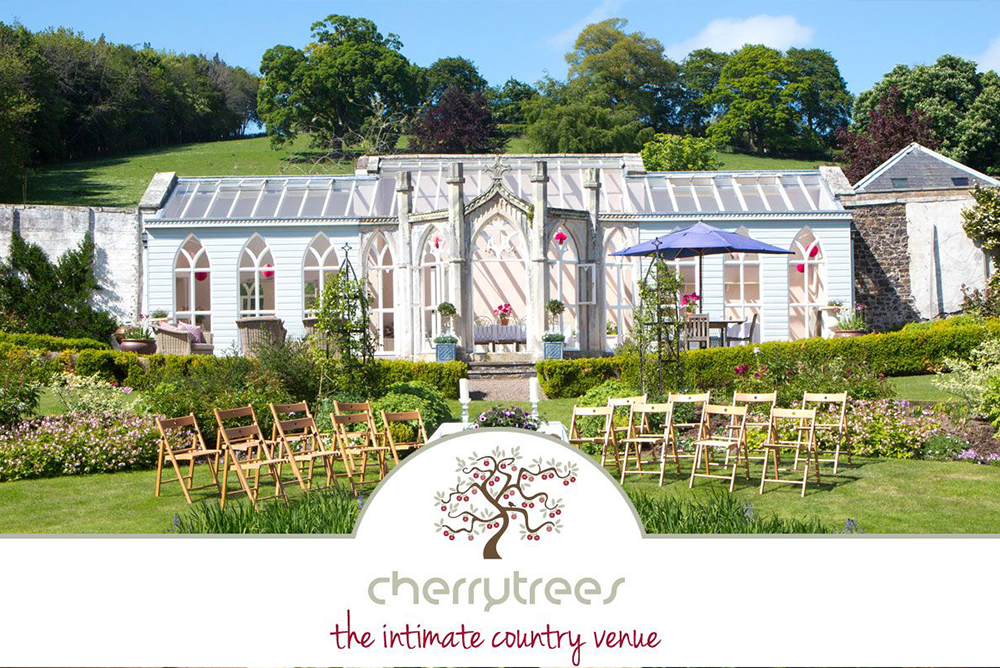 Cherrytrees
Do we hear wedding bells in the summer? For a charming and magical outdoor wedding, you have got to check out Cherrytrees. It is near the Scottish and English border, located in the beautiful countryside of Kelso. You can invite up to 50 guests to overlook the Cheviot Hills and enjoy the beautiful gardens.
Website: jamesandlianne.comhttps://www.cherrytrees-kelso.co.uk/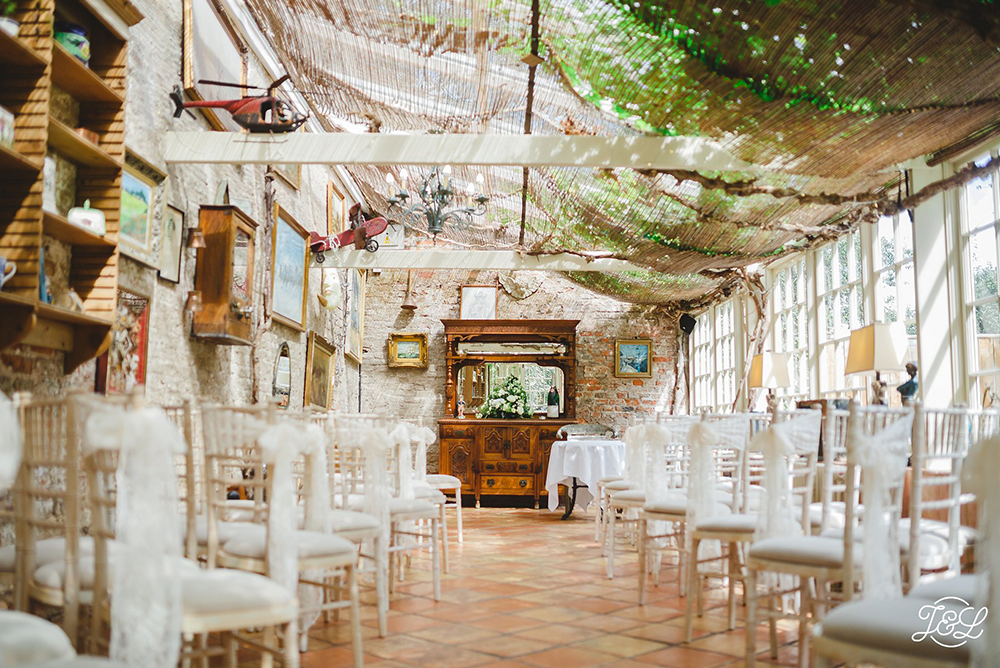 The Crab and Lobster
The Crab and Lobster is an award-winning venue in the charming market town of Thirsk, North Yorkshire. One thing it is famous for is its delicious food, making your wedding celebrations even better. It's welcoming and look stunning – what more could you ask for? You can make your wedding extra special by adding a Magic Mirror to the occasion. You will be able to take photos and make memories that last a lifetime.
Website: https://crabandlobster.co.uk
Photo Credit: James & Lianne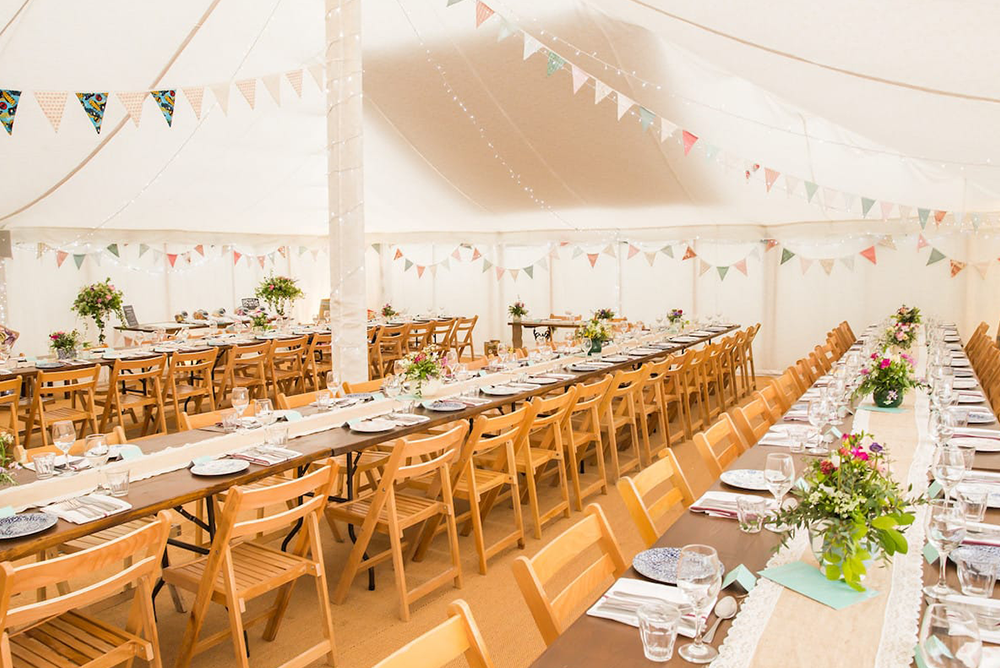 The Perch Inn
The Perch Inn is one of the oldest pubs in Oxford and now you can get married there. It has a thatched roof and it is a perfect summer wedding venue with a beautiful garden. The building was built in the 17th century and it serves some great food and drinks for your reception. It can be a traditional wedding with style.
Website: http://the-perch.co.uk/
Photo Credit: The Perch Inn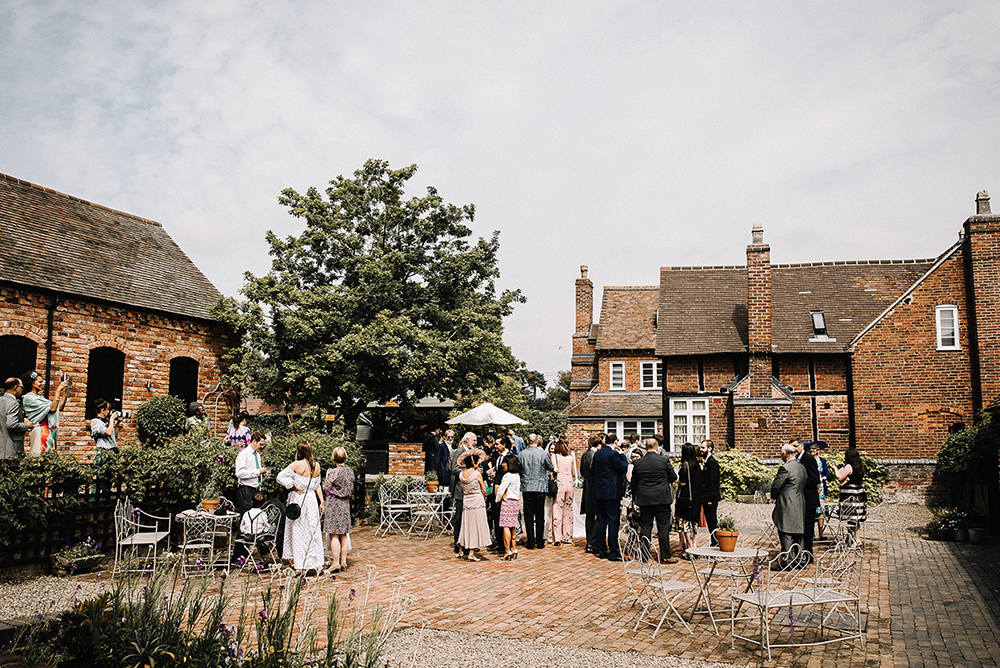 Curradine Barns
Would you love to have your wedding in a traditional barn? Look no further than Curradine Barns in Worcestershire. This is located in a beautiful village, with your wedding taking place in a 19th-century barn surrounded by gardens and a courtyard.
Website: https://curradinebarns.co.uk/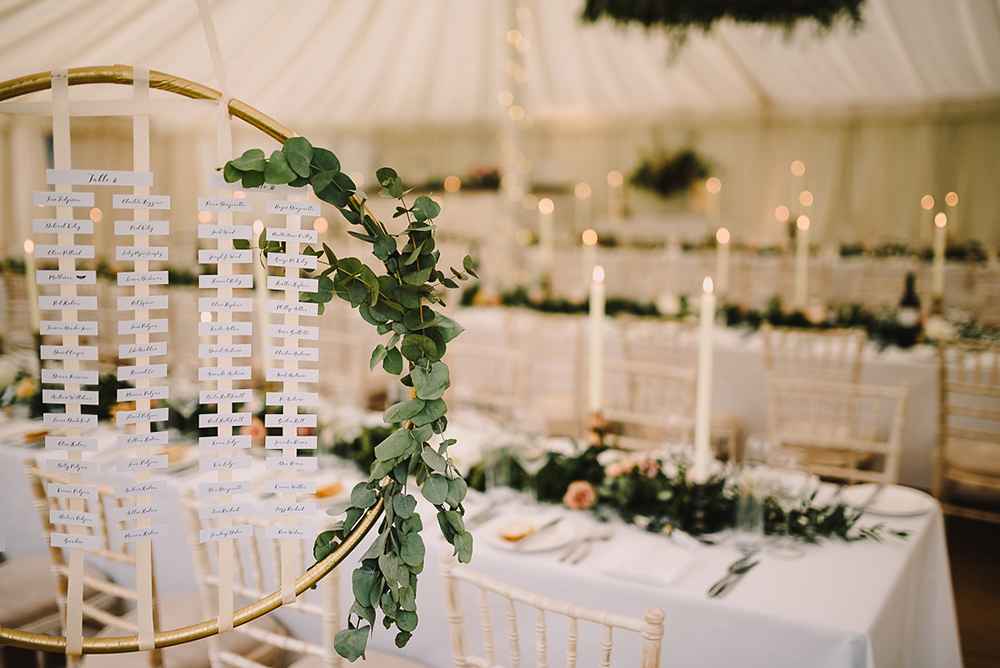 Sedgeford Hall
Sedgeford Hall is a stunning Grade II listed house that creates a traditional wedding atmosphere in Norfolk. You can keep it small and invite the people that mean the most to you and enjoy the romantic garden setting. If your wedding is during the summer, why not have some fun with garden games?
Website: http://www.sedgefordhall.com/
Photo Credit: Love My Dress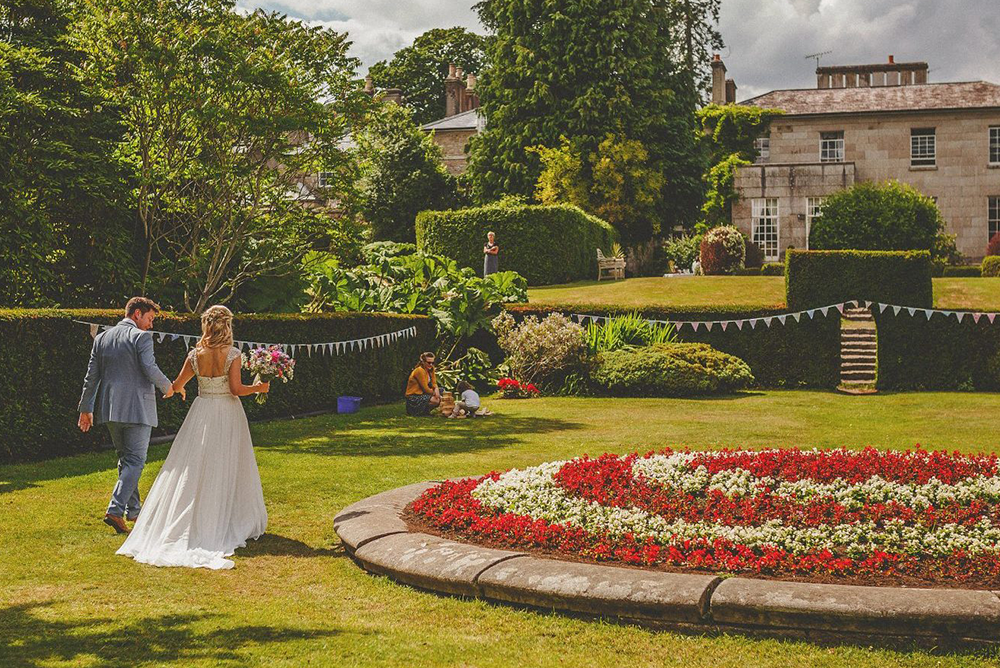 Colehayes Park
You can have your wedding in the beautiful Dartmoor National Park at Colehayes Park. There is amazing scenery, with 20 acres of woodland. You can get married in the Front Hall with the Reception Room, as well as there being outdoor areas for a summer wedding. The Manor House is Grade II listed and private for your wedding. You can invite anywhere from 30 to 250 guests to suit your preferences. You can also play a part in decorating for your wedding, whether you would like bright lights and a DJ or an indoor photo booth.
Website: https://www.colehayes.co.uk/
Crockwell Farm
If you want to get married in Northamptonshire, head to the welcoming Crockwell farm. This is perfect for a small and intimate wedding since you can tie the knot in a barn and 18th century vaulted hall. There is also the choice of holding the ceremony out in the Orchard Pavilion if you prefer an outdoor wedding. It is a tranquil place and the backdrop will look fantastic in wedding photos.
Website: https://www.crockwellfarm.co.uk/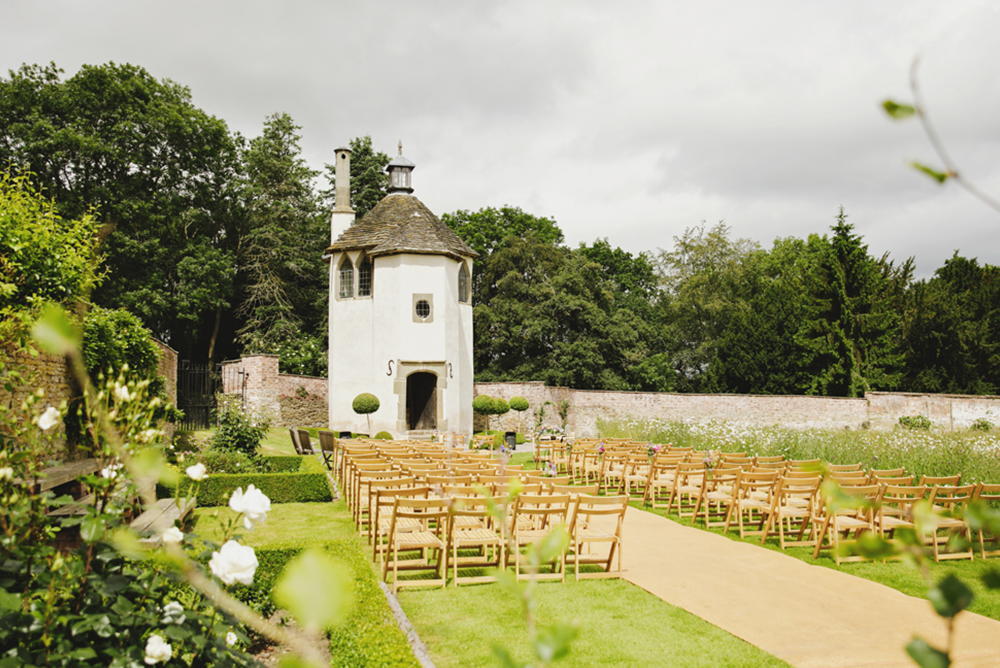 Homme House
For a peaceful and memorable wedding, you can get married at Homme House. This is found in the countryside and it is an exclusive house in rural Herefordshire. It is Grade II listed and surrounded by 200 acres of green and woodland. There are bedrooms here for up to 32 guests and you can explore the grounds together on your special day.
Website: https://hommehouse.co.uk/
Photo Credit: Coco Wedding Venues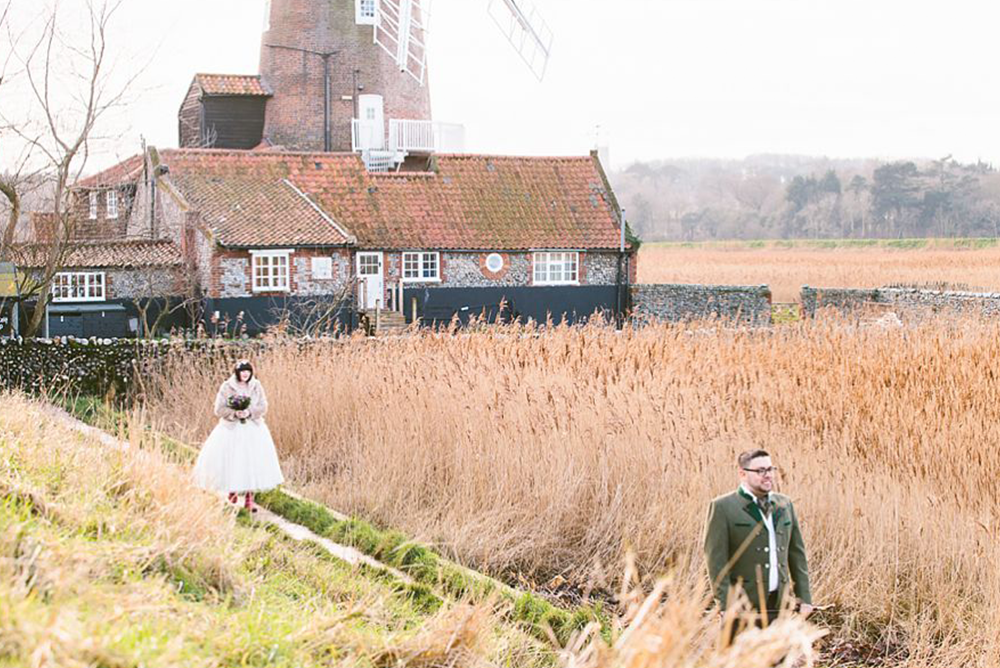 Cley Windmill
For your wedding, why not exchange your vows in a windmill? This special place is Norfolk is sure to be memorable and it is also near the beach. You can welcome 20 guests and make it a unique occasion.
Website: http://www.cleywindmill.co.uk/
Photo Credit: Beth Mossley Photography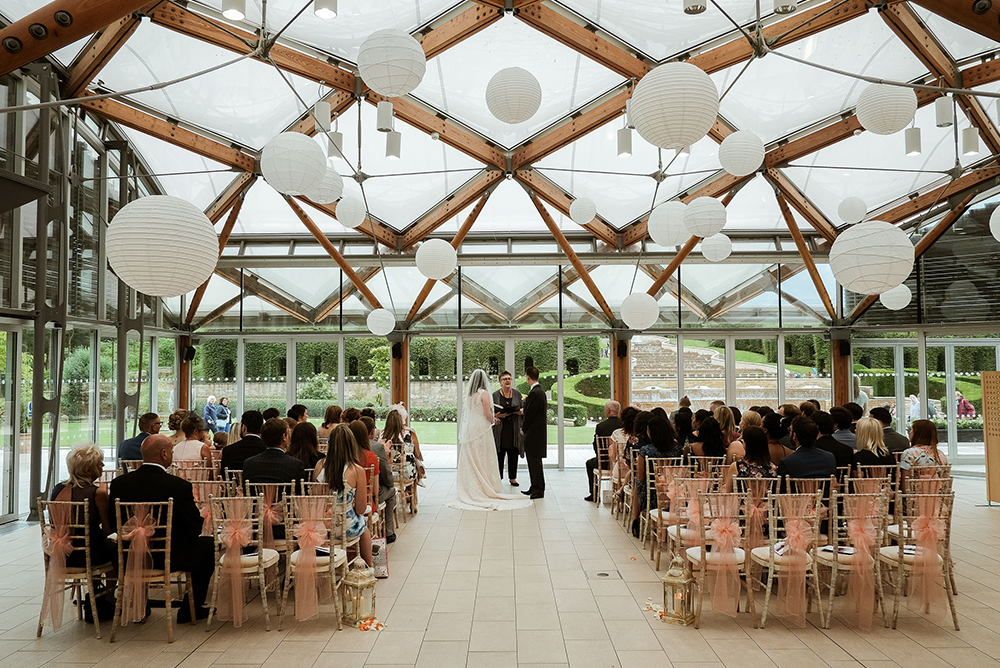 Alnwick Garden
Now you have the opportunity to get married in a magical treehouse! This fairy-tale can take place in Northumberland, with evening lights, rope walkways and warming log fires. We think this is the perfect setting for the Magic Mirror so all your guests can take wonderful photos.
Website: https://www.alnwickgarden.com/
Photo Credit: Barry Forshaw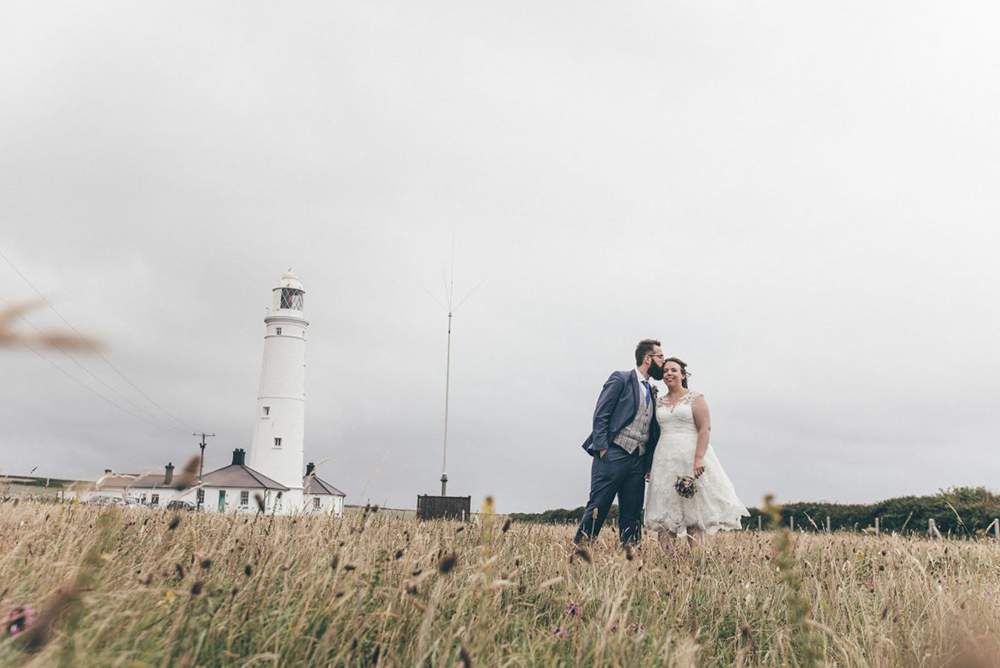 Nash Point Lighthouse
Found in Glamorgan, South Wales, Nash Point Lighthouse is available for an intimate wedding. You can have two floors for up to 25 guests where you can tie the knot. This lighthouse is still operational and it was built back in 1832. But you can bring some more light to the special day with the help of glowing Love Letters.
Website: https://www.trinityhouse.co.uk/
Photo Credit: Rachel Lambert Photography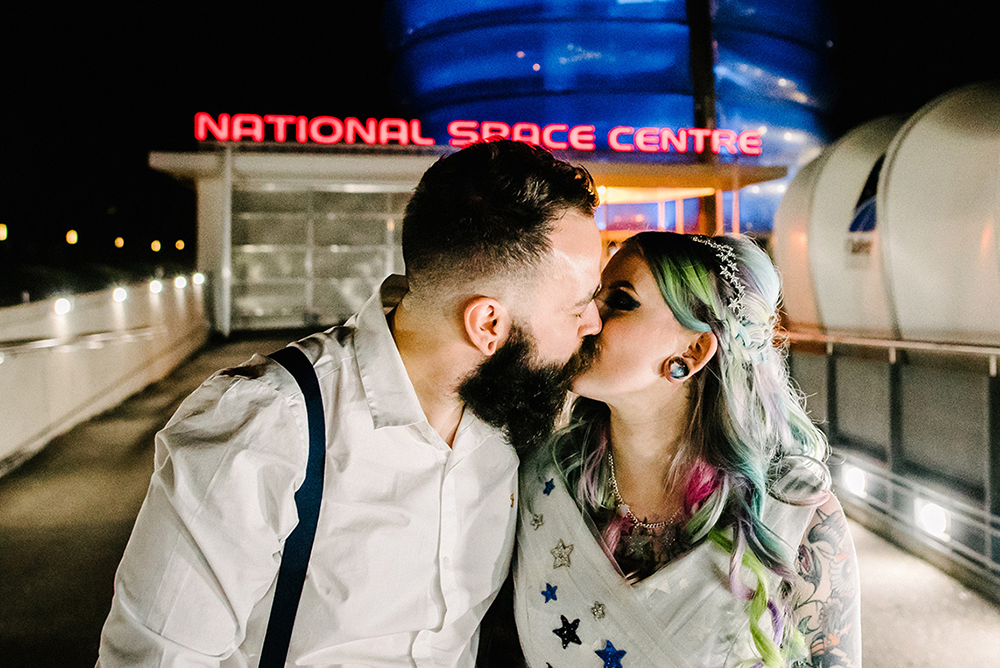 The Space Centre
Do you want your wedding to be out of this world? You can get married at the National Space Centre located in Leicester. You can enjoy the space artefacts and guests can learn more about space adventures on your big day.
Website: https://venuehire.spacecentre.co.uk/
Photo Credit: National Space Centre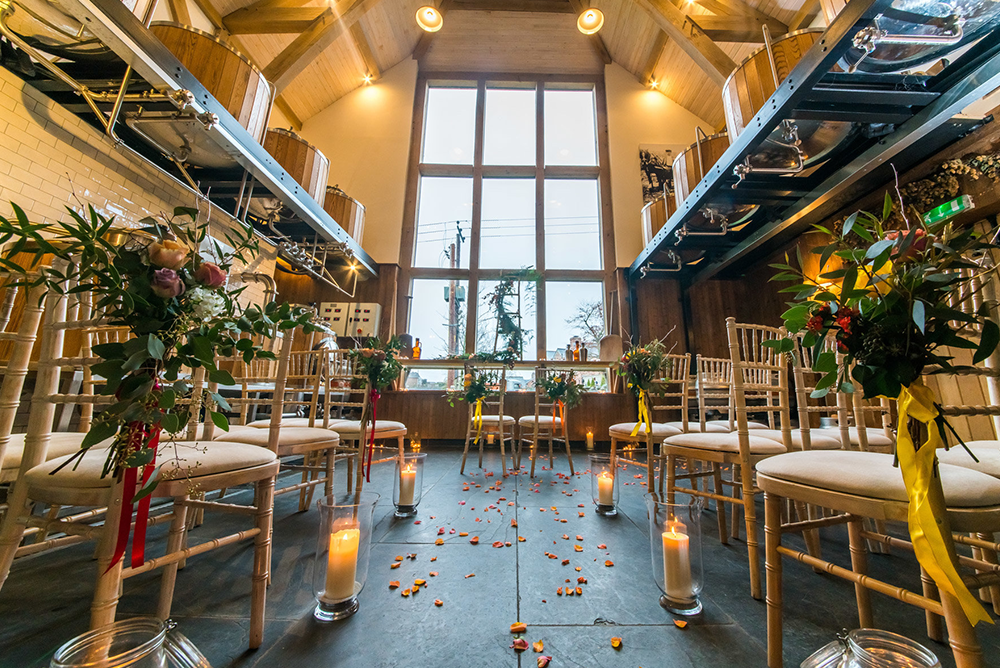 Three Daggers Microbrewery
If you like ales, we can't think of a better place to get married than the Three Daggers microbrewery. You can celebrate with friends and family, with brewing casks and oak surroundings. You can invite up to 50 guests here.
Website: https://www.threedaggers.co.uk/
Photo Credit: Bride Book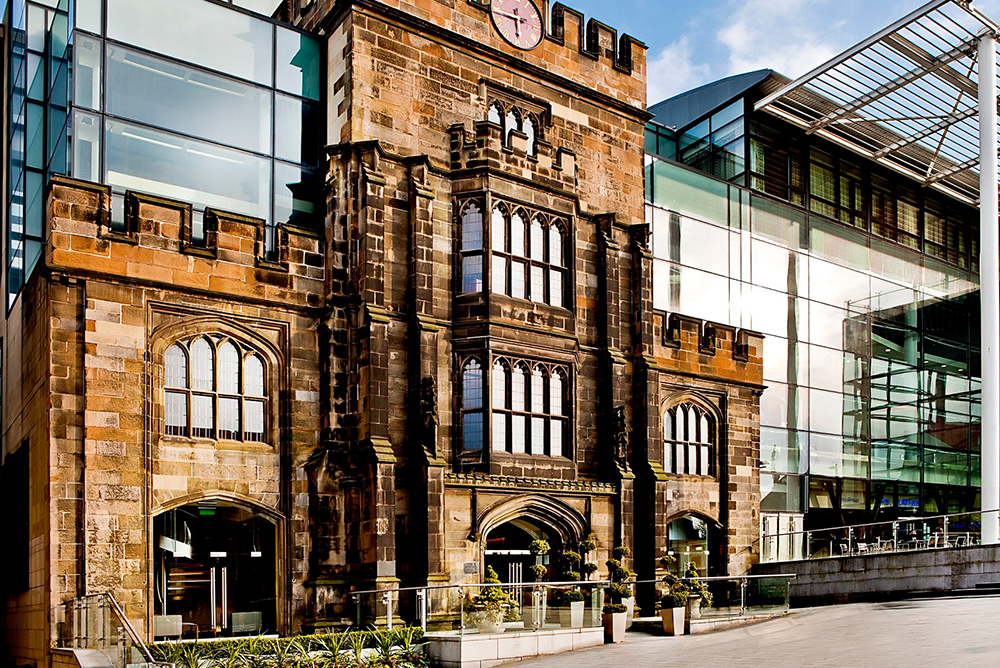 The Glasshouse Hotel
For a Scottish wedding, head to Edinburgh and book the Glasshouse Hotel. This used to be the Lady Glenorchy Church, mixing history with modernity. You can get married out on the rooftop garden, with views of Calton Hill. Of course, since it is a five-star boutique hotel, you always have a place to stay.
Website: https://www.theglasshousehotel.co.uk/
Photo Credit: Bride Book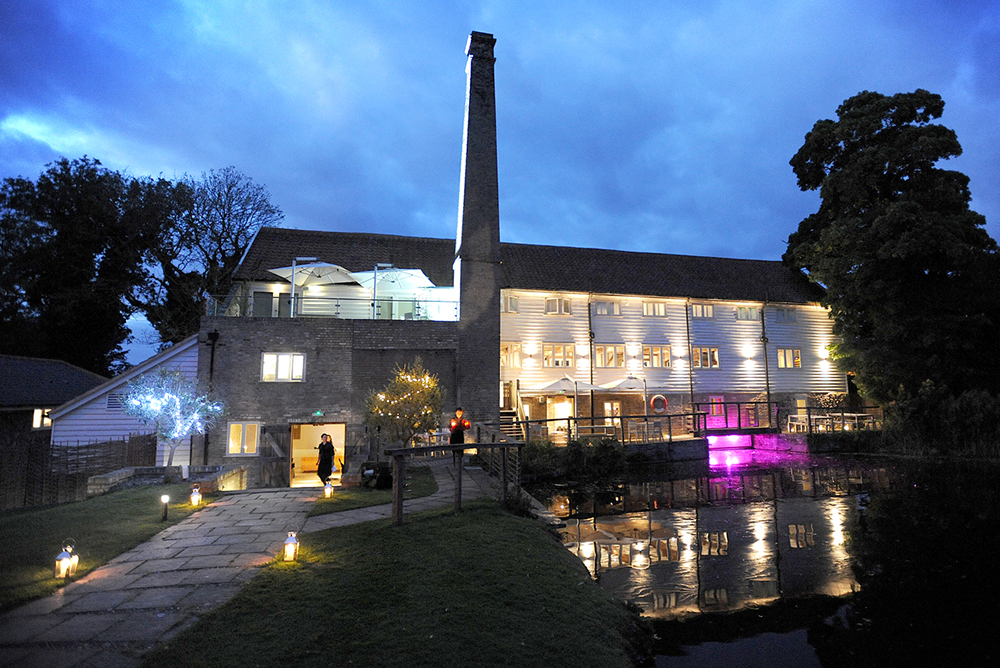 Tuddenham Mill
For a romantic wedding, arrange your ceremony at Tuddenham Mill. This is found in the Suffolk countryside and it is a historic water mill. There is also great food and wine available here and it is a place where you and your guests can relax. There are also boutique bedrooms here to stay for the weekend.
Website: http://www.tuddenhammill.co.uk/
Photo Credit: Gregg Brown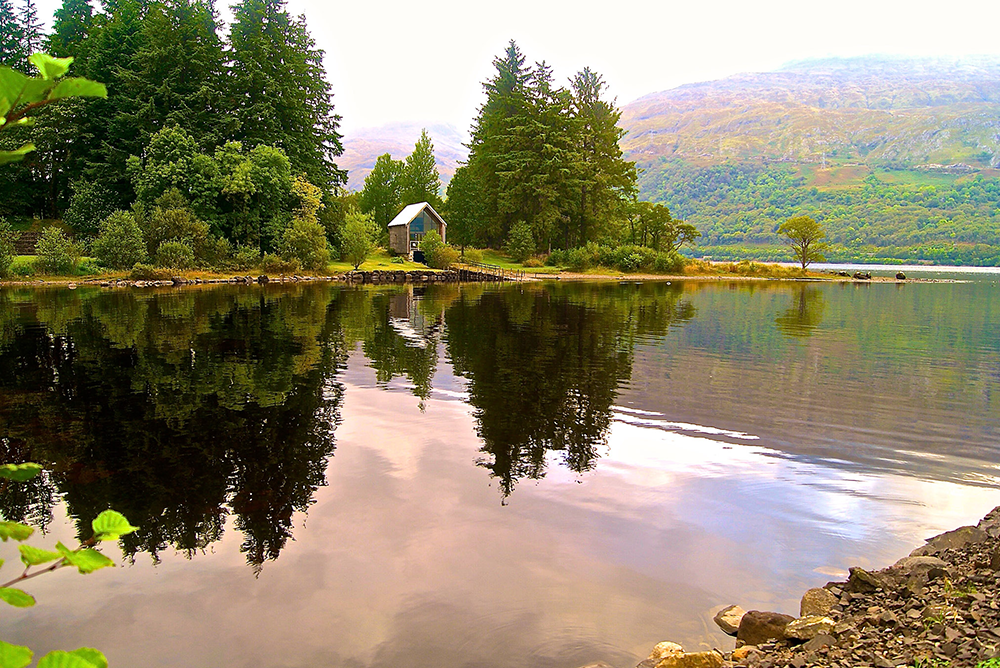 Loch Awe Boathouse
Would you love your wedding to be by the water? You can head to Loch Awe Boathouse, which is an exclusive area down by the loch. You can bring six guests here and enjoy your celebrations in the boathouse. There is beautiful scenery in Argyll, Scotland and this is a tranquil place to get married. Why not add some Love Letters to light up the place in the evening?
Website: http://www.lochawe.co.uk/
Photo Credit: Ardanaisaig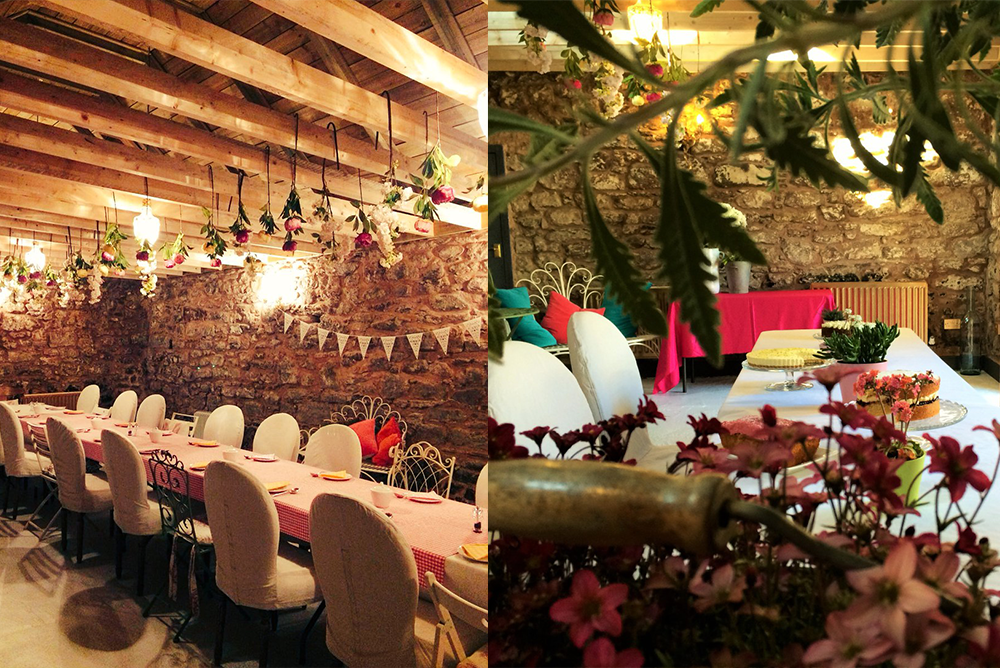 Fruin Farm
You can now get married at Fruin Farm in Loch Lomond and the Trossachs National Park, Scotland. This is a stunning place to get married, with animals, delicious food and great scenery. There is a rustic barn with the hills in the background looking out from the restaurant. You can invite up to 60 guests to your wedding or you can make it more intimate if you prefer a smaller number. The meals will be made from high quality locally sourced food. So, what are you waiting for? You could even add a Taxi photobooth outside for the occasion. You and your guests would be able to take fun snaps from the day to cherish forever.
Website: https://www.fruinfarm.co.uk/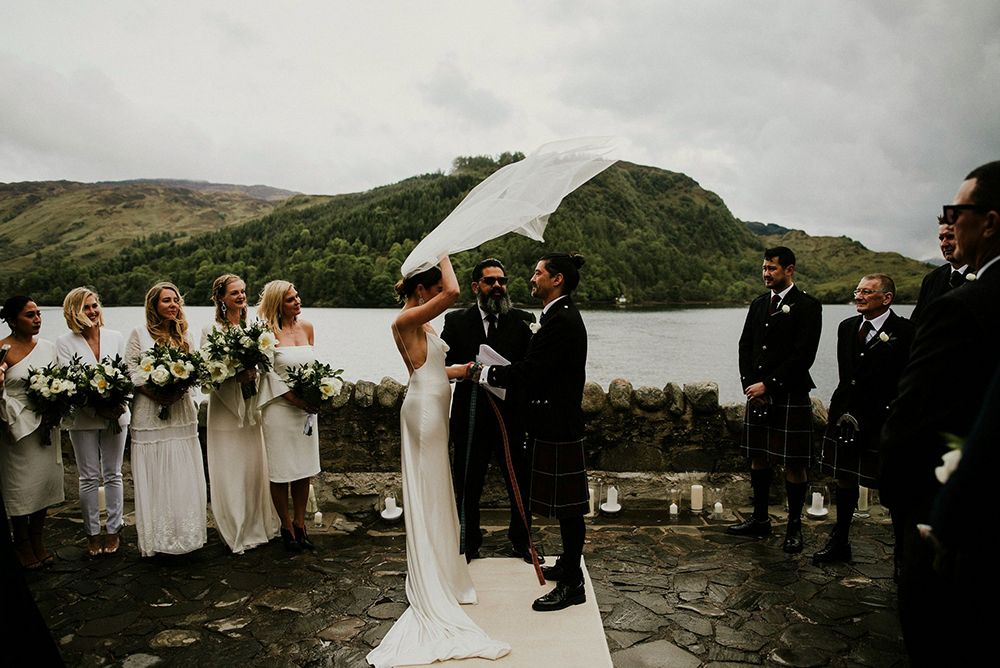 Eilean Donan Castle
If you like medieval castles, you are going to love Eilean Donan Castle. This one is iconic and it is one of the best places in Scotland to have your wedding ceremony. It was built in the 19th century and now is your opportunity to make some history. It is located on its own island and you can see the Isle of Skye. You magically cross the bridge to the castle, being the perfect setting for wedding photographs.
Website: https://www.eileandonancastle.com/
Photo Credit: John Johnston Photography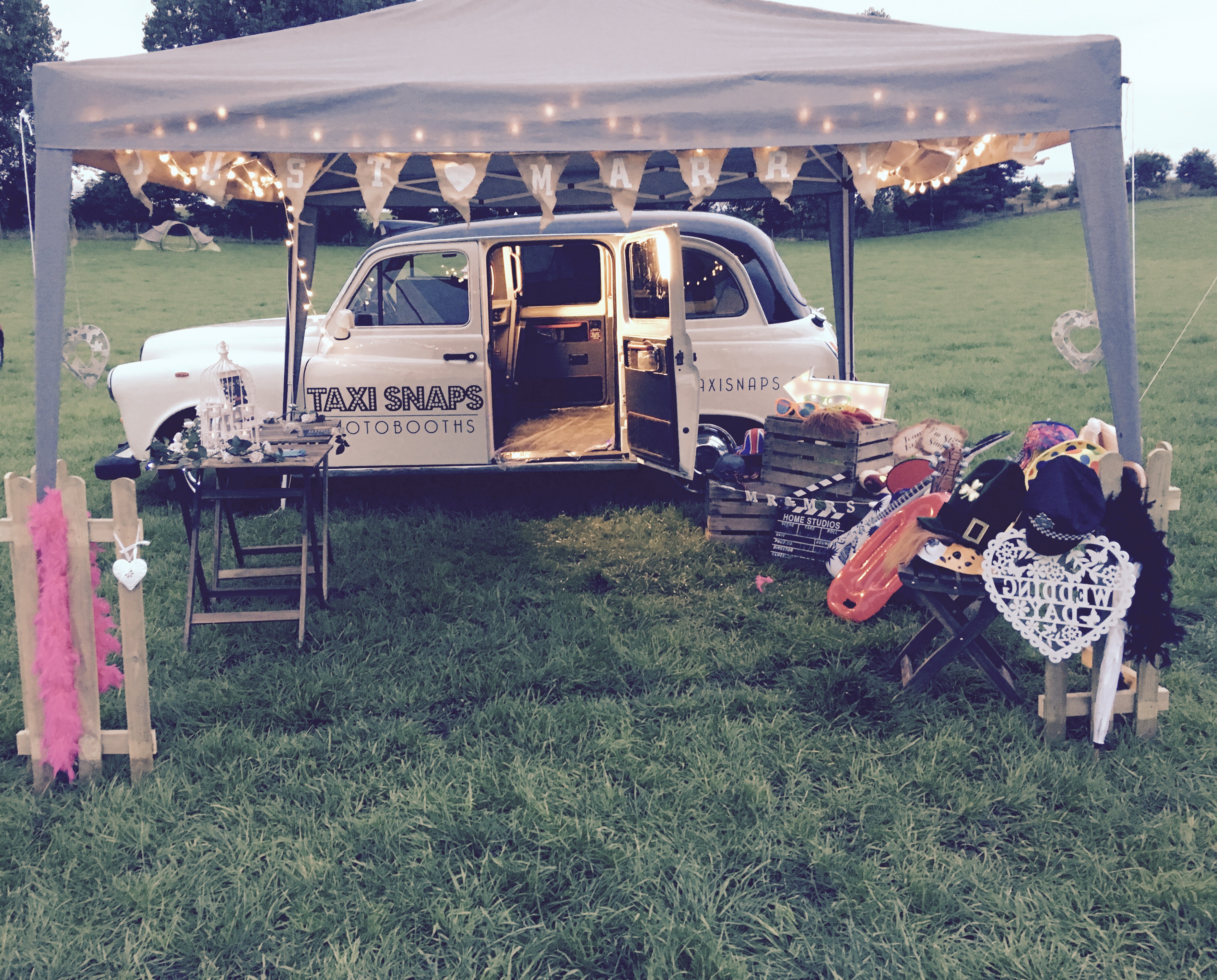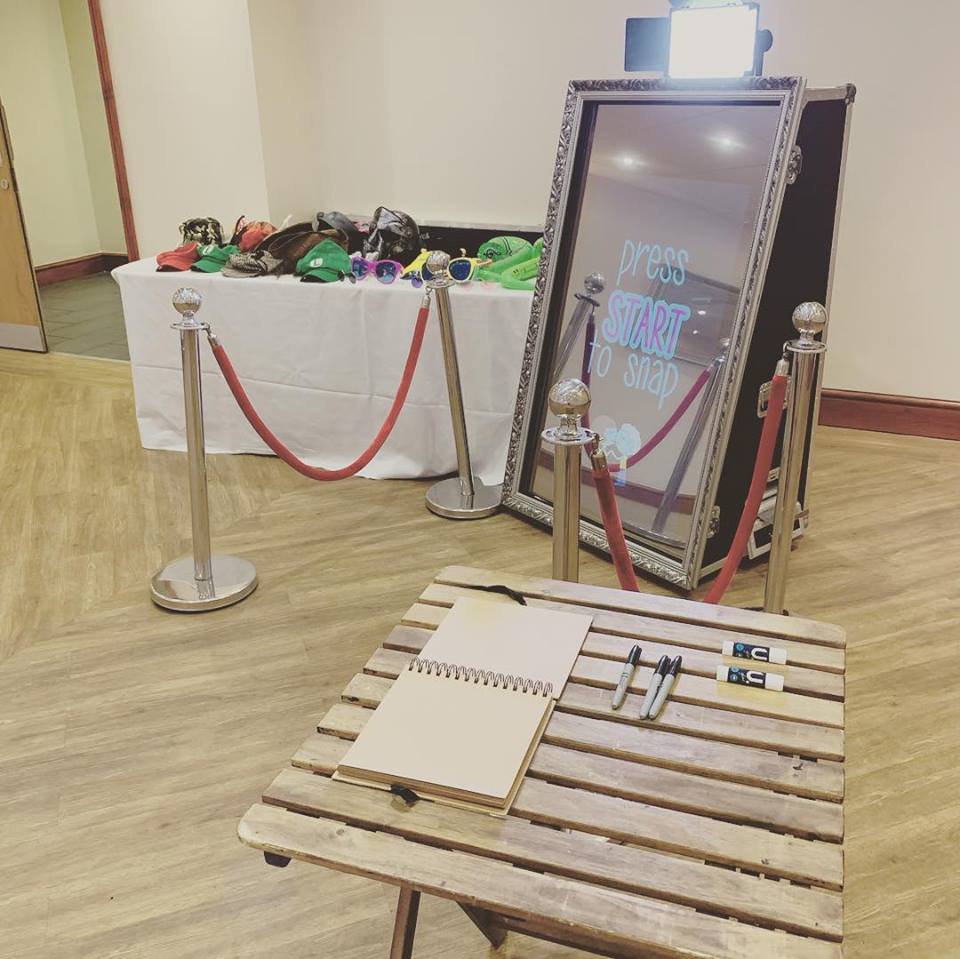 The perfect photo booth for an intimate wedding venue
Taxi snaps have a range of different booths to suit any venue. We have our iconic white taxi photo booth to make the most of the stunning outdoor space. We also have a magic mirror booth which can fit inside your small venue. We can cater to weddings all over the UK and have years of experience and 5-star reviews. You can be assured you will not only have the best photobooth of all the weddings you have been to, but peace of mind knowing you can count on us.
Fill in our quick online form and get a quote straight to your email!
Interested? Get a no-obligation free quote direct to your inbox
Get a Quote